| | |
| --- | --- |
| By Manuel Villanueva: Last update December 27, 2006 | |
---
---
---
December 27, 2006 (bookmark)
ForeSee's Bogus Study
Netflix did it again. It paid ForeSee to publish another "study." Placing it on top for consumer "satisfaction." However, this "study" is nowhere to be found. Where's the data? Once, ForeSee was stupid enough to post one of their "studies" about Netflix's customer satisfaction. Guess what? They didn't use a single Netflix customer. Read it for your self. I snagged the file before ForeSee yanked it from their Web site. Read more details on ForeSee's study.
Can't Google Netflix Phone Number
It's strange that you can no longer Google Netflix's customer service number. Three years ago, some angry Netflix customer posted a site with Netflix's phone number. It looked something like this. It was on the 1st page when Googling Netflix.
---
December 26, 2006
Tardy GreenCine Rental
On December 8, GreenCine shipped Green Green vol. 2 along with another rental. Green Green vol. 2 didn't arrive until the 22nd. It took so long arriving, I requested a replacement which arrived today. In that time frame, GreenCine shipped 4 rentals and received 2 other rentals in addition to my replacement.
December
S
M
T
W
T
F
S
1
2
3
4
5
6
7
8
9
10
11
12
13
14
15
16
17
18
19
20
21
22
23
24
25
26
27
28
29
30
31
---
December 21, 2006
Skip Dr Saves The Day
I received Zone of Enders vol. 4 from Blockbuster Online. The last episode wouldn't play. I tried 4 DVD players with no luck. I cautiously used Skip Dr to remove some deep scratches. Although it still wouldn't play on my $300 DVD player, it played on my $175 DVD player.
---
December 11, 2006 (bookmark)
Blockbuster: "0 Movie(s) Shipped"
Is availability the real issue with Blockbuster? Last Saturday (12/9/06), Blockbuster received 3 rentals. Normally, 3 more rentals would be shipped out that same day except that didn't happen. Blockbuster didn't ship me any rentals even though I have 7 titles listed as "Available." (screen capture). As of noon today, no rentals have been shipped. I've noticed several problems with Blockbuster Online since they revamped their site.
I usually keep my queue filled with less than 10 titles at a time. Blockbuster Online hasn't had a problem maintaining shipments at this level in the past. I could add "20 - 30" titles to my Blockbuster queue except I couldn't keep track of that many anime at one time. Between GreenCine, Netflix, and Blockbuster Online, I'm currently renting/watching 18 TV serials. Yes, I have problems remembering what happened from episode to episode: doubling the number of anime I'm watching would only increase the problem.
---
November 20, 2006
Blockbuster's "Available" Really Isn't Available (bookmark)
I checked my Blockbuster Online queue and saw only 1 rental shipped when there should be 3: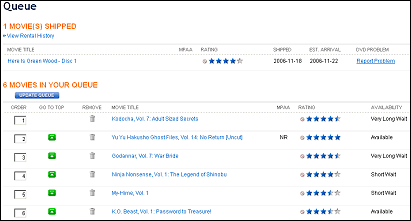 I called Blockbuster Online (866) 692-2789 several times (the line was busy) and asked why only one rental was shipped out today. I was told I didn't have enough movies in my queue. She recommended having "20-30" movies in my queue. I responded that there were 2 titles listed as "Available" in my queue. She said that is not necessarily true due to availability in my area. I've noticed this problem in the past: I'll have titles that are listed as "Available" in my queue that never ship. If that's the case, they shouldn't be marked as available.
---
November 18, 2006
Broken Netflix DVD #28
Neflix sent Maison Ikkoku vol. 4 disc 1 broken. Judging by the filthy grime, it appears the last person that rented it was a hardcore smoker and left it in their house for several months. Also notice a pattern on the DVD (see red arrow). I've noticed this "water stain" on several broken DVDs and many that weren't broken. I believe this pattern is created when the plastic starts to come away from the metal inside the DVD due to damage. If you come across a DVD that isn't broken and has this "water stain" appearance, the DVD is probably weakened and could easily break.
---
November 17, 2006
Broken Blockbuster DVD #16
My replacement for Corrector Yui vol. 3 was also cracked. I ordered another replacement through GreenCine. I exchanged my broken copy for another rental at a local Blockbuster store. This Blockbuster was a bit further. It seems all the Blockbusters have the same anime selection. I ended up renting Chronicles of Narnia, Broken Saints vol. 2, and Robots. I rented Chronicles of Narnia before but didn't have time to watch it. I'm still learning how to use my new home theater system. I had the Dolby 5.1 off and didn't realize it.
---
Is Your DVD Rental Really Wide Screen?
In addition to my new Pioneer DVD player (DV-46A), I also purchased a Pioneer 50" HDTV (PRO-1130HD) and a Pioneer receiver (VSX-816-K/S) with Infinity Home Cinema speakers (TSS-750). Watching DVDs has taken on a whole new meaning at home however new technology creates new problems. Due to the way I've configured my system. I'm unable to determine if my DVD rentals are widescreen (16:9) or full screen (4:3). Using HDMI cables solves the problem however I chose component cables. I have no problem determining with my own collection as the DVD covers indicate their aspect ratio. What about Netflix rentals? Netflix rentals don't have any covers to indicate their aspect ratio. Sure, their Web site lists this information yet Netflix isn't always right. The best solution I've found is using a program called Media Player Classic. This program indicates a DVD's aspect ratio when pressing "Ctrl" + "3" during playback as "16:9" or "4:3". Also, most PC DVD players will automatically resize to 16:9 or 4:3 during playback. By the way, 16:9 and 4:3 are the only two screen formats DVD players can display. DVD players convert all other formats (i.e. Cinemascope) into16:9 or 4:3.
FYI: Out of GreenCine, Blockbuster Online, and Netflix, Netflix did a better job of indicating rental screen size (4:3, 16:9, etc...) on their Web site.
---
November 12, 2006 (bookmark)
New Netflix Recommendations Suck!
I added an anime to my queue (99% of my rentals are anime) and Netflix recommends: Amelie, Y Tu Mama Tambien, Guys & Balls, Mostly Martha, Only Human, and Russian Dolls (screen shot). Netflix wasted its money upgrading their recommendation system.
---
November 10, 2006 (bookmark)
Broken Blockbuster DVD #15
It's not a good sign when your DVD rental feels deformed or unusually pliable. Corrector Yui vol. 3 arrived from Blockbuster bent like a store-bought corn taco shell.
---
November 7, 2006 (bookmark)
October's Stats
Service
Monthly Cost
(tax included)
Rentals
Delivered
Broken
Rentals
Wrong
Rentals
Missing
Rentals
Cost/Rental
(nonproblem Rentals)
Rentals/
Week
Netflix
$19.07
18
0
0
0
18@ $1.06 ea
4.1
Blockbuster
$19.07
21
3
1
0
17@ $1.12 ea
3.9
GreenCine
$21.95
10
0
0
3
7@ $3.14 ea
1.6
Total
$60.09
49
3
1
3
42@ $1.43 ea
9.7
Cost/rental & turnaround computed using Price/Rental & Turnaround Calculator. Services compared using rentals "returned" or "received" during September 2006. Seven Month Comparison.
Blockbuster did a very nice thing by sending me extra rentals (beyond my 3 allotted) to make up for the broken DVDs I received. Blockbuster did send a wrong DVD however it was a DVD I planned on watching.
---
Blockbuster In-Store Rentals
I've just about seen every anime that my local Blockbuster carries. I'm really not interested in renting much else. I might give some of the foreign titles a try, otherwise I don't plan on making much use of my local Blockbuster. Here's a question: Why subscribe to Netflix or Blockbuster Online if your local video stores carry titles of your interest? According to Netflix, people in my city rent popular Hollywood movies--you don't need Netflix to do that. Anime is the only reason I use Netflix. I wouldn't waste my time or money renting popular movies from Netflix, especially with all the problems I've had.
Latest list of titles rented locally from Blockbuster:
Chronicles of Narnia--never watched it
Family Guy Movie--seriously disappointing
40 Year Old Virgin--stupid
Pink Panther (2006)--another disappointment
Ren & Stimpy: Lost Episodes--hilarious
Cromartie HS vol.1--the only anime I didn't like
Broken Saints--different, interesting
Nightwalker: Eternal Darkness--good
---
November 3, 2006
Blockbuster Web Site Glitch (2:40 pm GMT -5HR)
I found myself unable to order individual volumes on Blockbuster Online. For example, search "peacemaker" (the anime) and you'll notice there is no option to select individual volumes. I tried the "ADD" button but this only added a single random volume. I hope this is fixed soon. In the mean time, I'm moving my titles from Blockbuster to GreenCine and Netflix.
Update November 4, 2006
This problem still continues. Instead of listing all the results for a particular serial (i.e. Space Pirate Mito). Blockbuster lists volume one and another as "[Anime Series]" however there is no indication what volume the latter is nor is their a link to the rest of the volumes. Blockbuster does carry the complete series (vol. 1-4). I tried looking the other volumes up using the my history but the catalog numbers have changed. Also, my Blockbuster's Online history lists volume 2-4 with the same catalog number.
Update November 7, 2006
Nothing has changed. The problem still exists. Could it be that Blockbuster 1) no longer has all the titles they used to 2) is still updating their new web site 3) hasn't fixed the glitch. I still don't understand the purpose of the listing some anime as "[Anime Series]." Clicking the link does not add the entire series, doing so adds a random volume from that series into your queue.
Update November 14, 2006
I've made a mistake. Blockbuster is including all series in a volume under the "All Editions" tab.
---
November 2, 2006 (bookmark)
Broken Rental Solution!
Blockbuster Online has provided its members a solution to rentals that arrive broken by mail. Blockbuster is allowing its members the opportunity for an in store exchange. You must be a member of your local blockbuster's Total Access program--Blockbuster is providing free memberships at this time. One drawback, your Blockbuster Online rental may not be available in your local blockbuster (that's 99% of my rentals). Your exchange will be limited to what your local blockbuster carries.
---
October 28, 2006 (bookmark)
Throttling: The Netflix Effect
My last 3 Netflix rentals came from 1) Richmond, Virginia, 2) Duluth, Georgia, and 3) Honolulu, Hawaii. Rentals from Hawaii are blatant examples of throttling. Rentals from Virginia and Georgia may seem innocent enough until you consider it takes the US Postal Service 3 business days (maximum possible) to deliver them to my home in Warren, Michigan. Another throttling method Netflix utilizes is holding shipments until the end of the week. This increases the probability your rentals will be returned on Saturday when Netflix centers are closed--easy money.
If you follow the message boards, Netflix subscribers experience a slowdown in shipments during the beginning of the week. Netflix attributes the delay to poor staffing on Mondays and an influx of weekend returns. That may be so, however I return my rentals throughout the week, due to my work schedule, yet Netflix routinely withholds my rentals until the end of the week. Thus, Netflix ensures my returns will stay in limbo on Saturdays (see above) and throughout the beginning of the week due to "staffing problems." It looks like Netflix deliberately creates their own staffing problems.
---
I routinely wash DVD rentals when they arrive in the mail. However, don't wash or attempt to remove scratches from cracked DVDs: You may cause further damage to the DVD ruining its chances of playing. Also, I've successfully removed dirt, gunk, etc... using non-acetone nail polish remover without damaging the DVD.
---
October 27, 2006 (bookmark)
My Opinion Censured
I find it interesting, how My Opinion of Netflix has been obliterated from Google after enjoying a lengthy stay as 5th result when Googling "netflix." Could the fact Blockbuster launched their new web site today have anything to do with it? Netflix has perfected screwing with Google. I wonder how much of my Netflix subscription fee goes towards attacking my web site?
---
October 26, 2006 (bookmark)
Throttling: The Netflix Effect
Here's my third rental from Hawaii. Netflix service had been improving up until now. Netflix now warns you when you're being throttled:

How convenient. Out of all Netflix centers across the country, my rental just "happens" to be available 4,500 miles away.
---
GreenCine Rentals Never Arrived
It appears my GreenCine rentals sent 10/7 never arrived. If they were stolen, I'm sure the thief was disappointed to only to find obscure anime titles.
---
October 18, 2006
Missing Rentals Update
I received Yu Yu Hakusho the next day (10/17) from Blockbuster. Also, it wasn't broken as I suspected. However none of my 3 GreenCine rentals shipped 10/7 have arrived--it's been 11 days. I reported them lost to GreenCine and they sent out replacements today.
---
October 16, 2006 (bookmark)
Broken Blockbuster DVD#14
I've never received this many broken DVDs from Blockbuster in such a short time. Sometimes renting DVDs from Netflix and Blockbuster is an exercise in futility.

I received NightWalker vol. 1 cracked on October 10th from Blockbuster. The crack was barely noticeable and I managed to watch ½ of the DVD before it began to hesitate to play—I wasn't about to watch the rest (75 minutes) with the video stopping and starting. By the way, I received a replacement from a local Blockbuster in Sterling Hts. Michigan just 11 miles from my house.
I also reported Yu Yu Hakusho as lost in the mail. It was shipped out on the 9th of October and I haven't received it yet.
---
October 9, 2006 (bookmark)
GreenCine 2 Years Later
I've been a satisfied GreenCine member for 2 years. On average I receive 9 rentals per month at a cost of $2.37 per rental. Reliability is the number one reason GreenCine has remained my preferred online DVD delivery service. Over the past 2 years GreenCine has never shipped a broken, unplayable or incorrect rental. GreenCine's use of protective padded envelopes ensures subscribers receive their rentals undamaged. Netflix argues the use of protective envelopes would raise their shipping and member subscription cost. I wouldn't care. I'd rather pay a little more for reliable service. Between Netflix and Blockbuster Online, I've received a total of 40 broken rentals. Can you imagine opening up your mail 40 times only to find a broken DVD rental?
GreenCine has done a fine job organizing their serials. Their level of organization makes it easier for employees to ship the correct rental (i.e. not shipping vol. 32 instead of vol. 12 as Blockbuster did). This level of organization also pays off for subscribers who rent serials online. GreenCine users will find serials consistently labeled with serial name, volume number, and volume title. GreenCine also displays an image of each volume's cover for easy identification.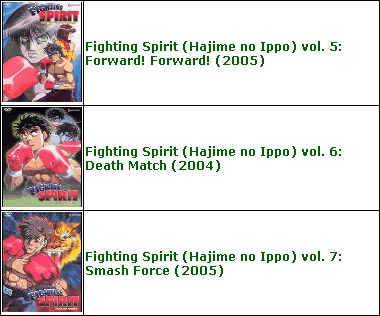 GreenCine recently made changes to their Web site. They've added DVD purchasing however they abandoned 1 key feature. GreenCine has become less user-friendly for renting serials. Last year, I could request subsequent volumes by clicking on serials in my queue. GreenCine has done away with links to each volume. Now, for instance, in order to request each volume of Everybody Loves Raymond you must type "Everybody Loves Raymond" in GreenCine's search bar then find the title in the results. I find this process to be a pain in the ass.
Ordering Volumes Before Change

Click on serial title in queue
Click on associated volume
Click "Rent"

Ordering Volumes After Change

Type serial title in search bar
Select volume from search results
Click "Rent"
Anime selection is what drove me to GreenCine initially. There were many anime titles unavailable at Netflix that GreenCine carried. Today, I still give GreenCine the lead over Netflix when it comes to anime selection however Netflix continues to narrow the lead. For instance, volumes 36-45 of Urusei Yatsura are unavailable at GreenCine yet available at Netflix. It's ironic, Netflix didn't carry Urusei Yatsura 2 years ago—one of the reasons I joined GreenCine.
My GreenCine Rental History
Create Your Own GreenCine Rental Spreadsheet Using Excel
10/11/04 Note: I thought GreenCine did away with their DVD recommendations but I found them hidden in "Your Account" section.
---
Netflix Rental Won't Play? Download It!
Ever rent a Netflix DVD only to find out half of the episodes won't play? Frustrating, isn't it? Anime distributor, ADV Films has started a new service that lets you download anime per episode. This may be an option for those Netflix customers who can't access all their anime episodes because the disc is damaged. I surveyed their site briefly. They have a limited selection of titles so far. Their selection will grow as video downloading is a growing trend. By the way, most of the episodes are dubbed in English.

---
October 8, 2006 (bookmark)
Blockbuster Broken DVD #12, 13
Broken rentals are an annoying Netflix problem. It's the fact that you're paying for rentals you can't watch. That's why I'm disappointed I recently received 2 broken rentals from Blockbuster Online. First, Blockbuster delivered Yu Yu Hakusho vol. 32 instead of volume 12 which I had requested. Next, Blockbuster delivered Yu Yu Hakusho vol. 12 except the DVD was cracked. Unfortunately, the replacement DVD also arrived cracked. At first, I thought Blockbuster had delivered the same broken rental twice. Yet, scanned images of the first broken rental and the replacement were different.
Yes, I was disappointed in receiving two broken rentals in a row except I noticed something unusual afterwards. My Blockbuster membership includes 3 rentals at a time however Blockbuster sent me 4 rentals—the replacement was an extra rental—something Netflix does not do. I hope Blockbuster continues to deliver extra rentals in situations like this. I believe it demonstrates good customer service.
By the way, I broke my own rule by ordering a second replacement. I've found in the past that if the first replacement rental is broken, it's likely the second will be broken as well. In situations like these, I order the rental from GreenCine instead. GreenCine ships their rentals in padded envelopes—I've never received a broken rental from GreenCine.
---
October 3, 2006 (bookmark)
Netflix: All-You-Can-Eat-Buffet Analogy
We've all heard the analogy before yet there's a comic strip on the very subject. Home On The Strange co-creator remarks,
You know, I wouldn't even have a problem with it if their advertisements hadn't said, "Unlimited rentals!" when I signed up. But… aw, hell, read the strip.
Everyone burned by Netflix says the same thing.
---
Still An Unsatisfied Netflix Customer
My disappearance from HackingNetflix is not of my doing. Every time I post a reply at HackingNetflix my comments are deleted. HackingNetflix is nothing more than a Netflix propaganda machine used to mislead consumers.
---
October 1, 2006 (bookmark)
Blockbuster Wrong DVD # 6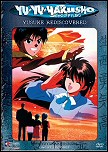 Talk about spoilers! I rented Yu Yu Hakusho vol. 12 from Blockbuster Online except I received volume 32 instead--the final volume. I figured I'd watch it rather than waste a rental. I had no idea it was the end of the series.
September Stats
Service
Monthly Cost
(tax included)
Rentals
Delivered
Broken
Rentals
Wrong
Rentals
Cost/Rental
(nonproblem Rentals)
Rentals/
Week
Netflix
$19.07
14
1
0
$1.47
3.0
Blockbuster
$19.07
13
1
0
$1.59
2.8
GreenCine
$21.95
9
0
0
$2.44
2.1
Total
$60.09
36
2
0
$1.78
7.8
Cost/rental & turnaround computed using Price/Rental & Turnaround Calculator. Services compared using rentals "returned" or "received" during September 2006. Six Month Comparison. I had to restart my comparison since Blockbuster raised its price.

My wife bought me a Pioneer DV-46A. Twin lasers with error correction should do a better job of playing Netflix's fubar DVDs. I've been happy with my Pioneer DV-563A which has performed faithfully and will enjoy retirement in the bedroom.
---
---
manuelsweb.com

©2006 m. villanueva
[ manuelsweb.com ]