| | |
| --- | --- |
| By Manuel Villanueva: Last update March 23, 2007 | |
---
---
---
March 23, 2007
Netflix "Shipping Today"
The truth gets stretched even further as Netflix finds more ways to rip you off. Lately, Netflix insists my rentals are "shipping today" which is far from the truth. In this screen capture Netflix claims my movies are shipping today however it's past 5:00pm--most post offices are closed.
---
Maximizing Your Anime Queue
Due to availability problems at Blockbuster, I've been changing the priority or "order" of my queue. The availability problems started after Blockbuster updated the appearance of their Web site. With Netflix, GreenCine, and Blockbuster, I watch over 10 tv shows at once which can be confusing. Because of this, I keep my queue to a bare minimum. Blockbuster says availability improves after adding 20-30 titles to your queue. Although I have over 10 titles in my Blockbuster queue, I'm only watching half of them by changing the priority of my queue--I place the series I currently watch at the top of my queue. The rest of my queue is made up of series I haven't started yet or non-series anime. I really don't like messing with my queue but reprioritizing my queue has made it easier to follow my anime series: I'm watching less series at once (less confusion) while keeping my queue filled with titles. It's worked so well I'm doing the same at Netflix and GreenCine.
---
March 13, 2007
Urusei Yatsura Vol. 50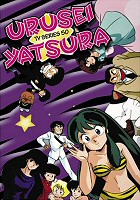 It's been over 2 years since I started watching the Urusei Yatsura (UY) TV series. Yesterday, I watched the 197th (final) episode. It's hard to believe something as contemporary as UY came out while I was still in high school 26 years ago. Anyone watching UY without any prior exposure to Japan can't help being immersed in Japanese life. The makers of UY expressed their difficulty translating the series due to humor and references that could only be understood with prior knowledge of Japanese and Japanese literature. Animeigo painstakingly added liner notes and onscreen text to help American viewers get Japanese puns, one-liners, and references.
Over the years, I grew found of UY's characters so I feel melancholy seeing it end. UY was one anime I looked forward to finding in my mailbox. Too bad my wife didn't enjoy UY as well--she couldn't stomach Ataru's crassness.
Renting UY was problematic. There were occasions of long shipping waits due to availability. Also, I did receive one broken volume and one wrong title through Blockbuster Online: Most of my rentals shipped from GreenCine without incident. Fortunately, most episodes had independent storylines so long waits between episodes did not feel too fragmented.
I ordered Reign vol. 2 from Netflix due to a broken disc from Blockbuster. Netflix shipped Reign vol. 2 first so I tried to remove it from my Blockbuster queue. When I tried to remove it a JavaScript alert said it was in the process of being shipped. I called Blockbuster and told them I couldn't remove it from my queue. Well, customer service stopped it from shipping which I'm thankful however Reign vol. 2 is still in my queue--I still can't remove it.
Broken Blockbuster DVD #19, 20
On March 7 (also 1/6/07), I received I Dream of Mimi broken from Blockbuster. Coincidentally, I also ordered this title from GreenCine due to the annoyingly long wait from Blockbuster. I should have removed this title from my Blockbuster queue as soon as GreenCine shipped it. By the time I tried to remove it from my Queue Blockbuster shipped it as well.
3/3/07 Reign vol. 2 broken.
---
February 22, 2007
Broken Netflix DVD #29

I received Lupin III vol. 7 broken from Netflix yesterday. If Netflix wanted to, they could have sent me a replacement yesterday. In fact, Netflix shipped out Project Arms vol. 7 afterwards. Instead, my Netflix queue said it would ship today. Well, today arrived and Netflix decided they would throttle my replacement until tomorrow. This is what Netflix calls "firing" their customers. Once you've been flagged as a "heavy renter," Netflix goes out of their way to make your subscriber experience as miserable as possible.

---
February 19, 2007
Hey Blockbuster! Nice Guys Finish Last.
Blockbuster will never survive on the Internet unless they become Web savvy like Netflix. Netflix knows how to manipulate sites like Google and Wikipedia to their advantage. Pay "research" companies like ForeSee to write bogus customer satisfaction studies. Create shill blogs (Mike Kaltschnee's) to pump its stock. Netflix isn't particular about their methods either when it comes to practices such as spyware or hacking servers.
Once Blockbuster figures out how a no-name Web site like "IHateBlockbuster" dot com tops Google results for "blockbuster" they might have a handle on competing with Netflix.
---
February 16, 2007
"For Saturday" Rentals 100% Throttled
Netflix has made it easier to track your rentals by adding estimated arrival dates in emails. I've experienced my rentals arriving late in the week or during the weekends. According to emails from Netflix, 77% of my rentals arrive during the weekend (Friday & Saturday). This is unusual as I have no set work schedule and watch rentals throughout the week on any given day. In all likelihood, Netflix ships your movies on the weekend as a cost saving measure. The longer you keep your rentals, the more Netflix saves on postage. Fact: Netflix is closed on Saturdays. Fact: The post office is closed on Sundays. Shipping your rentals on the weekend is one form of throttling. In addition to this form of throttling, I noticed that 100% of the rentals Netflix shipped on Saturdays were also throttled by delivery out of state.
Date
Notified
Expected
Arrival
Shipping
Locations
Title
02/13/07
02/01/07
02/01/07
02/01/07
01/17/07
02/14/07
02/07/07
02/07/07
01/24/07
01/24/07
02/14/07
02/06/07
01/23/07
Friday
Friday
Friday
Friday
Friday
Saturday
Saturday
Saturday
Saturday
Saturday
Thursday
Wednesday
Wednesday
richmond, va
local center
local center
local center
chicago, il
new brunswick, nj
tacoma, wa
santa ana, ca
santa ana, ca
new brunswick, nj
local center
local center
local center
urusei yatsura vol. 49
yu yu hakusho vol. 18
comic party vol. 4
rumiko takahashi's anthology vol. 4
urusei yatsura vol. 48
time stranger
the daichis vol. 3
project arms vol. 6
project arms vol. 5
urusei yatsura vol. 48
yu yu hakusho vol. 19
lupin the 3rd vol. 6
fighting spirit: champion road
Netflix advertises "next day delivery" however I've hardly experienced it. In general, it takes Netflix a week to send more rentals. The table below is a perfect example of my Netflix rental experience. It took Netflix 5 days to replace one rental and 8 days to replace 2 rentals.
Date
Returned
Received
By Netflix
Date
Shipped
Expected
Arrival
Turnaround
Time
movie 1
movie 2
movie 3
02/02/07
02/02/07
02/02/07
02/06/07
02/06/07
02/06/07
replacement 1
replacement 2
replacement 3
02/06/07
02/07/07
02/07/07
02/07/07
02/10/07
02/10/07
5 days
8 days
8 days
---
February 13, 2007
Blockbuster Improves Recommendations
I noticed today Blockbuster Online improved my recommendations. I rent anime so give me anime recommendations--I'm not that hard to please. For the first time, Blockbuster gave me all anime recommendations:
"Based on the 74 movies you've rated, we think you'll like these titles."
---
Netflix Throttling
Movie #1 sat in my queue over night and is finally shipping today. The same is true for movie #3. Movie #3 said shipping today then changed to Wednesday. I average 13.7 rentals per month. I lose $18.00 dollars in the process while Netflix makes $7.00. Does this really deserve throttling?

Notice Netflix states "shipping today." They never said it was shipped. When you're being throttled, Netflix waits for the post office to close before they ship your rentals so they sit in the post office overnight.
UPDATE:
Netflix sent me an e-mail this evening: "For Fri: Urusei Yatsura TV Series: Vol. 49 from Richmond, VA." I return a rental last Friday. Netflix supposedly receives it Monday. It takes an entire week for Netflix to ship a replacement: The same company that advertises "next day shipping." If you look at Netflix's (NFLX) stock graph, It looks like Netflix customers have caught onto throttling and switched to Blockbuster (BBI).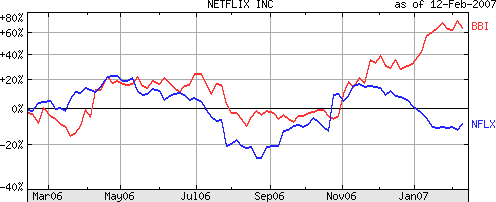 ---
February 5, 2007
Deceptive Netflix Practices Unfairly Target Latinos (bookmark)

With median income levels drastically less than their white counterparts, Latinos are driven to advertisements such as "free shipping," "no late fees," and "rent all the DVDs you want" when making family purchases. The Federal Trade Commission's (FTC) Hispanic Anti-Fraud Project stated Latinos are frequently victims of buying and rental clubs such as Netflix. Often promoted as free trials, customers are required to cancel shortly after to avoid credit card charges. Netflix conceals in small print that members are charged monthly regardless of usage. Netflix also conceals that it "fires" those customers who frequently make use of their service due to economic need. In 2006, Netflix settled a class action law suit with Frank Chavez over "false advertising, unfair and deceptive trade practices." Increasingly, Netflix is scrutinized by the FTC which referred to their business practice as a "promotional gimmick."
References:
http://www.census.gov/Press-Release/www/releases/archives/income_wealth/005647.html
http://www.consumer-action.org/radar/articles/most_common_scams_against_latino_consumers/
http://www.ftc.gov/bcp/workshops/hispanicforum/
http://www.ftc.gov/opa/2006/01/fyi0602.htm
http://sloanreview.mit.edu/smr/issue/2006/summer/05/
---
January's Stats
Service
Monthly Cost
(tax included)
Rentals
Delivered
Broken
Rentals
Cost/Rental*
Rentals/
Week
Netflix
$19.07
12
0
12@ $1.59 ea
2.8
Blockbuster
$19.07
15
2
13@ $1.47 ea
3.0
GreenCine
$21.95
8
0
8@ $2.74 ea
1.8
Total
$60.09
35
2
33@ $1.82 ea
7.6
1 Netflix rental replaced goes on next months stats. Cost/rental & turnaround computed using Price/Rental & Turnaround Calculator. Services compared using rentals "returned" or "received" during September 2006. Ten Month Comparison
Netflix Rental Not Quite Lost
Netflix shipped out Urusei Yatsura vol. 48 on 1/17/07. Of course, Netflix throttled me by shipping it from some other state with a expected arrival date of 1/19/07. One week later, still no rental. I reported it lost on 1/23/04--it arrived a couple days later. The US Postal Service has delivered over 800 Netflix rentals without loosing a single one.
---
February 3, 2007
Netflix "Watch Now" Quality "So-So"
PVR Blog :
The video quality is so-so, a bit better than stuff you'd see at YouTube, but obviously pixelated if you chose to view full screen and even at the default size it's got compression artifacts (I'm on a 8Mbit connection so I should be getting fairly high quality streams).
PS: Internet service at 8 mbps costs around $73.00/month for those lucky enough to afford it.
---
February 2, 2007 (bookmark)
Netflix "Watch Now" Anime? Don't Even Bother!
Netflix has graced me with streaming video. Netflix has a grand total of 9 anime titles to choose from. Just about any local video store has more than that. I checked if any of the anime were subtitled--Netflix doesn't say. Sorry Netflix, I'm not interested in watching dubbed anime. What's more, Netflix says my 1 Mb/sec DSL connection provides the worst video quality possible. When it comes to anime I'll stick to DVDs.
---
January 16, 2007
Netflix Streaming Video Vs. Blockbuster Total Access
Netflix has announced subscribers can now watch rentals on their PC. Many times, I have wished Netflix had this feature after delivering damaged DVDs. It's frustrating watching an anime only to discover that last episode won't play. Unfortunately, Netflix will be phasing in this feature over 6 months with access to only 1,000 titles. The bulk of these titles are reported to be Hollywood "B" movies and TV shows--that doesn't sound too appealing. With Blockbuster's Total Access you'll have freedom to watch any of the DVD's at your local store (around 5,000). Netflix is capping their streaming video to 18 hours/month (about 9 rentals) for standard plan subscribers. There is no cap on Blockbuster's Total Access.
When given a choice between watching a movie in your spacious living room on a wide screen TV with surround sound speakers or watching it on your office PC, I think most of us would choose the living room. The audio and video quality of streaming video leaves much to be desired. As for my interest, I doubt many of Netflix's streaming videos will be anime. If they do have anime, will it be offered as subtitled? I seriously doubt it.
Should competitor GreenCine worry about Netflix streaming video? Not really. GreenCine has offered DVD quality downloads that play in your standard DVD player for years now.
---
January 15, 2007
Netflix Hides Their Phone Number (bookmark)
Looking for Netflix's Customer Service Number? So is everyone else. Try these. A message posted by Michael in the Consumerist has revealed Netflix has posted its customer service number in plain view for years! Yes, plain view for prospective subscribers not current subscribers. Not only does netflix use tracking cookies to spy on Web sites you visit, they use those same cookies to block your access to their customer service number. Try this tip: 1) Sign out of Netflix 2) Once logged out, click the link "How It Works." You'll see Netflix's phone number on that page: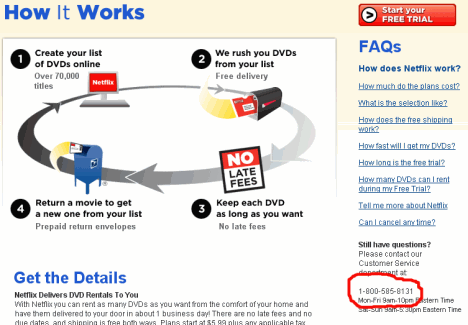 Hiding your service number from your customers is a dirty trick but hey, that's Netflix!
---
Blockbuster Online 2 Years Later (bookmark)
SUMMARY: Blockbuster Online provides slightly better service than Netflix. Blockbuster's Total Access program (free to subscribers) provides twice as many rentals than Netflix when comparing similar plans. With that being said, let's continue on to my no-holds-barred critique of Blockbuster Online.
Last November had been 2 years since I started my membership with Blockbuster Online. I criticized Blockbuster, a year after joining, for their lack of selection and availability. Availability remains a problem however Blockbuster has greatly improved their selection. In fact, Blockbuster carries titles Netflix doesn't. Sadly, I'm still moving titles from my Blockbuster queue to GreenCine or Netflix because of "long waits" or "coming soon" notices just as I did in November 2005. There are too many instances of Blockbuster not carrying complete volumes of a series.
Last year, Blockbuster had the lowest prices until they raised their subscription rates. Now, Netflix is slightly cheaper. How? Both offer standard plans of $17.99. However, Blockbuster becomes less economical when they deliver significant numbers of broken rentals or rentals which were not requested. Once you factor in the cost of broken and incorrect rentals, Netflix becomes slightly less expensive than Blockbuster ($1.32/rental vs. 1.45/rental, based on my rental history) unless you consider Blockbuster's free in-store rental coupons and their Total Access program: For every Blockbuster Online rental, Total Access (free to online subscribers) provides a free in-store rental.
Problem Rentals: Service Comparison
Service
Rentals
Broken
Rentals
Unplayable
Rentals
Lost
Rentals
Wrong
Rentals
Duplicate
rentals
Total
Problem
Rentals
Percent
Problem
Rentals
Netflix
860
28
2
0
5
2
37
4.3%

Blockbuster
333
16
1
1
6
0
24
7.2%

GreenCine
242
0
0
3
0
0
0
1.2%

Total
1,435
44
3
4
11
2
61
4.3%
Comparison based on rental history and stats. Actually, I reported a GreenCine rental as lost however the rental eventually arrived along with the replacement. This is a problem. I just haven't decided how to categorize it.
Blockbuster's recent Web site update has been disappointing. I've experienced more problems since their update.
Problems With Blockbuster Online
Recommendations: Blockbuster's recommendation page does not recommend what I want--anime! If I exclusively rent anime, then give me anime recommendations. I get better recommendations from Blockbuster when browsing their anime titles: "You might also enjoy…" (same is true of Netflix).
Finding Title Volumes: I've had difficulty finding individual anime volumes since their Web site update. Volumes are now buried under tabs.
Availability: Since last year, Blockbuster's title availability seems to have become worse. Just recently, Blockbuster was unable to ship me any rentals due to availability. Titles do not ship even when they're listed as "Available." I believe this is the result of a technical glitch since their site update. Lately, I've noticed a trend with rentals received on Saturdays: No replacements are sent out until Tuesday. Why? Poor or inaccurate availability will lessen Blockbuster's ability to hold on to subscribers.
Poor Title Descriptions: Subscribers will often find titles with missing descriptions especially with serial volumes. Knowing which volume comes next is difficult with Blockbuster. I often refer to GreenCine for volume number and title description when ordering anime from Blockbuster Online. The good news is Blockbuster is updating their site making it easier to order title volumes:

Missing Rental & History Information: I've noticed that my rental history at Blockbuster Online is missing approximately 80 rentals abruptly halting around June 2005-I starting renting in November, 2004. The same is true of my billing history. Also, My Blockbuster rental history has become confusing now that they no longer list individual volumes, instead volumes are listed as "anime series." Can you tell which volumes of Urusei Yatsura I rented? More importantly, which volume did I leave off at? Without the volume number I have no idea where I left off.

Notice the links all point to the same page.

To be honest, I think Blockbuster's revised Web site is half-baked. What's the rush? I was content with the old Web site (I said the same about Netflix). However, Blockbuster makes amends by allowing subscribers to exchange online rentals for free in-store rentals doubling subscription value. Which plan would you rather have? Ten Netflix rentals for $18.00 or 20 Blockbuster rentals for the same price? Personally, I haven't been taking advantage of the free in-store rentals because Blockbuster doesn't have the anime titles I want to rent: I'm really not interested in anything else.
I've pointed out many of Blockbuster Online's faults yet Blockbuster still provides better service than Netflix. I've updated my comparison of Netflix, GreenCine, and Blockbuster Online. Based on my comparison, Blockbuster rates slightly better than Netflix although GreenCine does even better:
OVERALL SCORES
Netflix = 2.7
Blockbuster Online = 2.8
GreenCine = 3.2
---
Broken Blockbuster DVDs #17, 18 (bookmark)
On January 6, 2007, I received 2 rentals from Blockbuster online (Reign the Conqueror vol. 1, I Dream of Mimi) and both were broken. My replacement for Reign came from Southgate, MI not far away.
---
December Stats
Service
Monthly Cost
(tax included)
Rentals
Delivered
Broken
Rentals
Wrong
Rentals
Replaced
Rentals
Cost/Rental*
Rentals/
Week
Netflix
$19.07
15
0
0
0
15@ $1.27 ea
3.4
Blockbuster
$19.07
13
0
0
0
13@ $1.47 ea
3.0
GreenCine
$21.95
10
0
0
1
9@ $2.44 ea
2.1
Total
$60.09
38
0
0
1
37@ $1.62 ea
8.5
November Stats
Service
Monthly Cost
(tax included)
Rentals
Delivered
Broken
Rentals
Wrong
Rentals
Missing
Rentals
Cost/Rental*
Rentals/
Week
Netflix
$19.07
17
1
0
0
16@ $1.19 ea
3.7
Blockbuster
$19.07
12
2
0
0
10@ $1.91 ea
2.3
GreenCine
$21.95
8
0
0
0
8@ $2.74 ea
1.8
Total
$60.09
37
3
0
0
34@ $1.77 ea
7.8
Cost/rental & turnaround computed using Price/Rental & Turnaround Calculator. Services compared using rentals "returned" or "received" during September 2006. Nine Month Comparison.
---
---
---
manuelsweb.com

©2006 m. villanueva
[ manuelsweb.com ]