My Netflix Journal: 5/05 - 6/05


By Manuel Villanueva
Last updated January 8, 2007
---
July 3, 2005
---
June 29, 2005
Broken DVD # 24

It's business as usual for Netflix. Today Rurouni Kenshin vol. 6 became my twenty-fourth broken Netflix DVD. I know what some of you are thinking--"This is 2 months worth of rentals." This time I reported it broken online to Netflix to see if the procedure has changed but it hasn't. I noticed when I reported my last broken rental to Blockbuster Online it was immediately taken out of my queue and a replacement was shipped right away. If Blockbuster continues this practice I will be satisfied. My wife is urging me to quit Netflix. She getting tired of not being able to watch our favorite videos because they're broken.
---
June 26, 2005

How To Spot Fake News Articles

Time after time I see news stories that glorify Netflix while demonizing Blockbuster Online. These are not news worthy articles. Either the "writer" has vested interest in Netflix (i.e. Rick Munarriz) or the "writer" was paid to give Netflix a favorable review.

Case and point:

, written by Bruce Mohl, is obviously a paid advertisement for Netflix. He succeeds in peddling Netflix rather than describing customers reaping benefits from a price war. Mr. Mohl describes Netflix as "faster" and "quicker" while criticizing Blockbuster Online as being "sluggish" and "annoying." He also mentions Netflix as "number one in customer satisfaction." He's referring to the study that used web surfers instead of Netflix customers to rate Netflix customer satisfaction. Like any good Netflix shill, he mentions all of Netflix's online features while neglecting that of the competition's.

Now compare Bruce Mohl's article with that of Mike Estes:

Truth about Renting Online. Mike doesn't compare one service to another. He doesn't favor one service over the other. He mentions the companies involved, compares the cost, then goes through the pros and cons of online renting. Mike is forthright, succinct, and to the point. If either of these articles were a consumer's guide to online renting it would be Mike Estes'.

I've never followed a business before but I've learned a lot from Netflix's poor ethics.
---
Broken DVD # 23
Yesterday, I received Tenchi Muyo GPX vol. 8 cracked which makes my 23 broken rental from Netflix (see picture). This was a new disc which means it probably was shipped defective from Netflix as others have been in the past. I will reorder this title from Blockbuster instead as all of Netflix's stock of this particular DVD are probably cracked as well. Netflix doesn't seem to care about sending out broken rentals as they still make money off them. I won't report it broken as Netflix slows down my deliveries for doing so. Instead, I'll mark it "broken" with a black Sharpie so the next customer knows Netflix doesn't care about sending out broken merchandise.
USPS Frequently Asked Questions About Netflix: [bookmark]
Is the USPS responsible for damaged Netflix rentals?
No.

We are sorry to learn your mail was damaged while in our care. Reports of damaged mail concern us. In order to process and deliver the huge daily volume of mail in a timely manner, we use high-speed automated mail processing equipment; occasionally this equipment malfunctions causing damage to a few pieces of mail. It is quite possible that such a malfunction caused your mail to be damaged.

Regrettably, because insurance was not purchased at the time of mailing, we are unable to honor your request to be compensated for your damaged item. The Postal ServiceTM is not held liable for damages occurred during the processing or handling of mail matter under Title 28, Section 2680(b) of the U.S. Code, except for Express Mail®, Registered MailTM, insured, and C.O.D.

Does the USPS recommend placing fragile DVDs in plain envelopes?
No.

Use foamed plastic or padding to protect your items, placing the cushioning inside hollow items as well. Careful packaging is the best way to safeguard your valuable items against damage.
Netflix Terms of Use:
Is Netflix responsible for damaged or lost rentals?
No.

We assume no liability or responsibility for any errors or omissions in the content of the Netflix Web site, any failures, delays, or interruptions in the shipment of DVDs...

In no event shall Netflix, Inc., its shareholders, directors, officers, or employees be liable (jointly or severally) to you for any special, incidental, indirect or consequential damages of any kind...
Do Netflix customers get screwed when receiving broken and lost rentals?
YES!
---
June 25, 2005
Price Per Rental Calculator Updated
The Price Per Rental Calculator which includes all the pricing plans to Netflix, GreenCine, and Blockbuster now calculates your turnaround time. You can also check your turnaround time with Listology. However, if your concerned about sharing your personal Netflix cookie with others the Price Per Rental Calculator is a safe alternative.
---
New Blockbuster Online Feature
Blockbuster Online now keeps tab how many movies you've rented from them. Click "My Account" and scroll down to "Rental Activity." I'm rented 85 movies so far.
---
June 23, 2005
Blockbuster Sends Wrong Episode
First, it was Netflix that sent me All Purpose Cultural Cat Girl Nuku Nuku Dash! vol. 2 instead of All Purpose Cultural Cat Girl Nuku Nuku Tv vol. 2. Now Blockbuster sent me All Purpose Cultural Cat Girl Nuku Nuku Dash vol. 3 instead of volume 1. I haven't had very good luck with this title.
---
California Attorney General's Reply
It's been exactly 3 months since I sent a complaint about Netflix to California's Attorney General's Office. Today, I received a letter from A. Flint, Manager of the Public Inquiry Unit for the Attorney General. In my complaint I included the number of broken and wrong shipments I have received from Netflix:
01. 11/26/03 - broken DVD
02. 03/04/04 - broken DVD
03. 04/01/04 - broken DVD
04. 04/05/04 - broken DVD
05. 04/11/04 - broken DVD
06. 04/15/04 - broken DVD
07. 04/22/04 - broken DVD
08. 05/20/04 - broken DVD
09. 07/15/04 - broken DVD
10. 07/19/04 - broken DVD
11. 10/30/04 - broken DVD
12. 11/04/04 - broken DVD
13. 11/20/04 - broken DVD
14. 12/01/04 - broken DVD
15. 12/09/04 - broken DVD
16. 12/24/04 - broken DVD
17. 01/08/05 - broken DVD
18. 01/25/05 - broken DVD
19. 01/30/05 - broken DVD
20. 02/26/05 - broken DVD
21. 02/28/05 - broken DVD
22. 12/27/03 - wrong DVD
23. 06/20/04 - wrong DVD
24. prior to 11/6/03 - wrong DVD #1
25. prior to 11/6/03 - wrong DVD #2
The letter stated the Attorney General's Office will not take action at this time as they have not received enough complaints. I encourage Netflix subscribers to send your complaints to California's Attorney General's Office.
---
"Nearest Netflix Shipping Facility" Part 7 [bookmark]
I received a reply from the US Postal Service concerning the return of Netflix rentals. Here's the reply I received:
Discussion Thread
---------------------------------------------------------------
Response (Angelique #####) - 06/23/2005 05:24 AM
Manuel,

Thank you for visiting our website. I understand that you are
inquiring as to the process used to deliver rentals from Netflix. For further
assistance, please contact the Warren Business Reply Mail office at
(586) 576-8975. They can be reached week days 8:00 AM until 5:00 PM and
Saturdays 9:00 AM until 2:00 PM.

If I can be of assistance to you in the future, please don't hesitate
to contact me. Thank you for choosing the United States Postal Service.

Angelique

Customer (manuel villanueva) - 06/22/2005 07:07 AM
By what process does the USPS deliver DVD rentals in Business Reply
Mail to a company known as Netflix? Specifically, what does the return
address "Nearest Netflix Shipping Facility" on these Business Reply
envelopes mean?



Question Reference #050622-000192
---------------------------------------------------------------
Topic: Postal Policies and Procedures
Sub-Topic: Freedom of Information Act (FOIA)
Date Created: 06/22/2005 07:07 AM
Last Updated: 06/23/2005 05:24 AM
Just now, I called a post office in Lansing, Michigan (4800 Collins Rd) where my closest distribution center is located. Carol, who works with business reply mail reiterated what every other postal worker has said in regards to the "Nearest Netflix Shipping Facility" address--They are delivered to the address printed on the envelope. Carol says the envelopes are "machine read" and sent to the address it reads. By the way, Carol sounded like she might be a Netflix subscriber because she mentioned Netflix's "queue."
---
June 22, 2005
"Nearest Netflix Shipping Facility" Part 6 [bookmark]
I've continued to inquire about this issue to determine where rentals with "Nearest Netflix Shipping Facility" are returned. I've called my local postal employee who handles business reply mail except he could give me no specific information concerning this. I've tried to call my Business Mail Entry center but no one ever answers the phone--makes me wonder where this phone is that no one ever answers it. I did make a third call the Netflix Customer Service and managed to get more information. I asked the representative, "If I live in Michigan and I receive a 'Nearest Netflix Shipping Facility' envelope from Arizona, where will the envelope be returned? Her reply was, "The envelope will be returned to the po box on the envelope but if the post office knows of a center in Michigan it will be returned there." I asked if there was any information about this topic on their web site and she said no. Now, the question is, how does the post office know which is the closest center?
Listology.com has begun tracking "Nearest Netflix Shipping Facility" envelopes and posting results on it's web site. So far, they've tracked five envelopes with a turnaround average of 3 days. If this is correct it would support rumors that rentals are being returned to the closest distribution center. Neither the USPS nor Netflix seem to know what's going on. The USPS or Netflix need to publicly state the process involved in the rental return envelopes.
Update 7/16/05: Local distribution centers like mine are using the new envelopes. This practice will influence Listology's tracking times.
---
June 18, 2005
Reasons Why Anime Fans Shouldn't Use Netflix [bookmark]
Netflix tries to create a friendly environment with their "friends" feature however Netflix users are serious anime haters. Once members of HackingNetflix found out I rent anime, members posted messages such as these:
Manuel, just keep your BS to yourself. You distort the facts so much and get emotional on anything related to Netflix (makes me wonder if you get paid by Blockbuster) that you have absolutely no credibility... go back to watching 200 cartoons a month...
Manuel, I am afraid watching too many cartoons has permanently damaged your brain
How dare Netflix didn't provide poor Manual with 50 cartoons a month?
which one is the male nurse who watches 40 cartoon DVDs per month?
He believes that they are working this dasterly deed to delay him from watching his cartoons. ~all he wants to do is watch cartoons in peace!~
For this reason alone I would suggest using GreenCine. GreenCine caters to anime fans including message boards for sharing posts about anime. You might also consider RentAnime.com although I haven't used the service.
Also, there seems to be some outspoken racist Netflix members. Just Google "site:hackingnetflix.com" and racist or ethnic words (i.e. Jew). You'll be surprised at what you find. Do you really want to share services with members like these?
---
"Netflix" & "Highest Customer Satisfaction" In The Same Sentence? [bookmark]
Since the media keeps hyping this story I'm going to write about it again! The study the media is covering on Netflix is a bit misleading. Those interested on more information about this study can download the Top 40 Retail Satisfaction Index at:

http://www.foreseeresults.com/WhitePapers/Top40OnlineRetailSatisfactionIndexCommentary.pdf
First, the study did NOT survey Netflix customers. The participants had VISITED Netflix's web site: "We looked specifically at browsers instead of buyers." It's difficult to measure customer satisfaction when your not even using the target population (Netflix customers) in question; a fact that the study admits. So they're asking window shoppers what they think of Netflix. What were visitors most likely to see when they visited Netflix 3 months ago when the study was conducted? Hmmm..."Rent all the DVDs you want for $17.99 a month--NO LATE FEES!" Unlimited movies! What a bargain! However, these visitors don't realize that "unlimited," at best, is 14-15 movies a month. Nor did they experience Netflix's customer service.

The study didn't compare other online DVD rental companies. You can't say (for example) based on this study 5 out of 10 customers say Netflix has better customer service than Blockbuster.

I would be interested in seeing the research instrument and more information on the selection and exclusion of participants used in the study.

In my opinion, the participants of this study were misled by false advertising-Netflix's forte. False advertising does not equate customer satisfaction.
---
"Nearest Netflix Shipping Facility" Part 5 [bookmark]
Raven of recently compared return times of two "Nearest Netflix Shipping Facility" envelopes. Here's what Raven found:
ENVELOPE RETURN ADDRESS
DISTANCE
RETURN TIME
"Nearest Netflix Shipping Facility"
Some East Coast City
+1,000 Miles
4 Days
"Nearest Netflix Shipping Facility"
Kansas City, MO
177 Miles
2 Days
Raven goes on to say,
Maybe the Post Office doesn't have a clue about Netflix here in the sticks, but I'm pretty sure that movie travelled all the way back to the east coast instead of one of the closer DC's.
Raven also raises the same question I do--How is a distribution center a thousand miles away the "Nearest Netflix Shipping Facility"? Also, plans on tracking the turnaround times of envelopes addressed "Nearest Netflix Shipping Facility" by next week. Hopefully, we will see a pattern.
---
June 17, 2005
Netflix Among Top 10 Spenders For April 2005
reports Netflix spent $12.5 million dollars an advertisement during the month of April, 2005. Blockbuster was not on the list. It's nice to know Blockbuster is spending my membership fee wisely.
---
"Nearest Netflix Shipping Facility" Part 4 [bookmark]
Becky of NetflixFan has breaking news concerning the "Nearest" facility issue. She received correspondence from Steve Swasey, Netflix Director, Corporate Communications and this is what he had to say:
Do not be concerned. This change was made to increase efficiency of distribution, and will not affect your service...
Notice he does not say these envelopes are returned to your closest center. He says distribution is the reason behind the new envelopes. If you think about this it means the envelopes are indeed returned to the center they originated from--this would insure Netflix maintains an even distribution of DVDs. You can imagine if one center was shipping rentals to customers across the country their stock would become depleted unless they were returned. Mr. Swasey goes on to say "members should not alter their envelopes in any way" as this would prevent their return to the appropriate center.
The question is, "What will members do?" Will they return their rentals to centers thousands of miles away or will they "alter" the envelope so it's returned to their nearest center?
Quote Of The Day
Pay no attention to that man behind the curtain.
The Wizard of Oz
---
June 16, 2005
Where Can I Find Gungrave Volume 7?

This is why I won't rent new serials anymore. I started watching Gungrave with Netflix, that was until they ran out of new episodes after volume four. I added Gungrave back to my queue 3 months ago. I was able to watch volumes 5 and 6 however Netflix doesn't have volume seven. Blockbuster doesn't carry Gungrave vol. 7 either but GreenCine does. I was surprised RentAnime doesn't carry Gungrave vol. 7, (or vol. 6) especially for a online DVD rental company that claims to carry every anime title although I imagine the company is new and going through growing pains like Blockbuster Online.
Gungrave volume 7 won't be released until July 19, 2005 however GreenCine will place it in your queue until then or you can purchase it in advance through Amazon.
---
"Nearest Netflix Shipping Facility" Part 3 [bookmark]
Test Question 1:
Manuel lives in Warren, Michigan and receives a Netflix return envelope addressed to "Nearest Netflix Shipping Facility, PO Box 52081, Phoenix, AZ 85072. Where will the envelope be delivered?

Nearest Netflix Shipping Facility, PO Box 52081, Phoenix, AZ 85072
Netflix, PO Box 30320, Lansing, MI 48909
Nearest Netflix Shipping Facility, PO Box 95009, Lakeland, FL 33804
The answer is A. Yes, this envelope will be delivered 1,690 miles away in Phoenix, Arizona. I've confirmed this fact today with Sharon, Netflix Customer Service Representative. I also confirmed this 6/13/05 with Anthony, Netflix Customer Service Representative, and with Carol, United States Postal Service, Warren, Michigan. In fact, I spoke with a number of postal workers just to make sure.
Let's go over the facts. When you compare the new and old envelopes they're exactly the same. They have the same facing identification mark (FIM), and the same horizontal lines. The only way the post office can tell where to mail this is using the address or postnet barcode. The USPS will not physically look at every address printed on an envelope unless they have to. Netflix return envelopes have a postnet barcode to automate its delivery. In fact, Netflix gets a discount from the USPS because their rentals can be sorted by machine.
Both Sharon and Anthony said the reason some of my rental's return addresses are to places like Lakeland, Florida and Phoenix, Arizona is due to the fact the rentals were delivered from distribution centers in those areas. My concern is what if I forget which rental came in which envelope?
claim the answer to test question 1 is B. They insist the envelope will be delivered to Lansing MI because it's the closest to my house. It's a nice thought but false. Out of 47 respondents to this topic, I was the only one who bothered to ask the USPS and Netflix for the answer. Don't forget HackingNetflix is a gathering place of deceitful investors/paid posters trying to boost their stocks (exception to the honest customers that visit). If you want the truth call Netflix (1-800-279-5688) or your local U.S. post office. Don't forget, it's those same investors who said throttling was a myth.
---
June 12, 2005
"Nearest Netflix Shipping Facility" Part 2 [bookmark]
I received another Netflix return envelope without a return label. This one had a preprinted address of:
Nearest Netflix Shipping Facility
PO Box 95009
Lakeland, FL 33804-5009
I was thinking this was another mistake of someone forgetting to put on a return label as I've written about before. Then I realized, how can this be a mistake when it has a delivery point barcode for Lakeland, Florida. Someone went to the trouble of printing a barcode on the envelope that will send my rental to Florida.
Needless to say, I don't want my rental traveling a thousand miles to Florida when it can be returned 80 miles away in Lansing, Michigan. Also, is there any rhyme or reason to returning my rental to Florida? If a particular rental was delivered from Florida, how do I know which rental is supposed to be returned there? My first solution was to blacken out the Florida address and barcode then write in the Lansing address. Although, I went a step further and printed out the Lansing address and delivery point barcode on my PC then attached it to the rental.
---
June 7, 2005 [bookmark]
No, I Don't Make Copies Of My Netflix Rentals
My Turnaround Calculator has really incensed many Netflix investors. Here's excerpts from a recent letter:
What utter garbage. I suppose Netflix should simply send you all 25,000 DVD's at once so you can copy them and transmit unauthorized copies for fun and profit? What in the world do you want with 30 movies per month?

...

Do you think Netflix is a charitable institution? Have you ever had a business? Even a lemonade stand? Surely you don't really think Netflix should send you 104 movies per month for $40?

...

Trevor Stevens
I don't make copies of my rentals. I have a job as a RN in a busy emergency room. I'm sure I don't make as much money as you but it's a honest living. I've thought about making copies of my rentals to solve the problem of receiving serials out of order but it seems like too much hassle. I'll settle for watching a volume then adding the next volume to my queue to resolve the receiving-series-out-of-order problem.
I'm not sure you realize how difficult it is to find anime titles. Plus, the fact that anime titles are expensive. I'm not going to compound the problem by making illegal copies to sell. I remember searching the comic book stores 15 years ago in vain for anime titles like Robotech and Macross. Later, Bud Plant was the first catalog I found to order anime from, including Gunbuster--one of my favorites. Still, Bud Plant shipped my titles from 2,000 miles away.
I've been an anime fan for a long time. Before anime, I read Heavy Metal magazine in the 1980s which featured Japanese artwork like Hajime Sorayama's sexy femme bots. Owning an original copy of anime means a lot more than having a burned copy. There's the original artwork plus the sentimental value of ownership. I own over a hundred anime titles. I'd purchase more but they cost around $27.00 each hence my subscriptions to GreenCine, Netflix, and Blockbuster. I hope Netflix is paying Bandai, Geneon, and ADV for all the rentals I've watched.
Dear Mr. Stevens and other irate Netflix investors, some customers do watch more than "6 movies per month." Personally, I approve of customers burning copies of their rentals as a solution to Netflix's shipping problems. Watching more than 6 rentals a month should not send up red flags that customers are making illegal copies. Maybe I should accuse you of insider trading when Netflix stock dramatically rose before Wal-mart announced it's plans last month ;-)
---
RentAnime.Com


While browsing Google News I discovered a new online DVD rental company that caters to anime fans. I haven't tried it but would like to. One, I'm already renting anime from GreenCine, Blockbuster, and Netflix (each 3-at-a-time). Two, I can't afford it although I'm glad to know there's another source I can rent from. The fact RentAnime's parent company sells anime is reassuring: They're already in business with a history you can look up. Plus, they're likely to provide good service encouraging purchasing through their parent company.
I've sworn off renting any new anime titles or titles I haven't seen. I have list 684 items long with anime titles that I haven't finished for various reasons. This is called biting off more than you can chew.
---
Throttling Of A New Variety
Here's an excerpt of an e-mail I received implying Netflix distribution centers stop processing once they've reached a limit:
"In certain instances, your next available DVD will not ship until the next business day following our receipt of your returned movie. This can occur, for example, when your top choices are not available to you from your closest distribution center or the number of shipments to be processed by the distribution center on that day has been exceeded."

Maybe I'm reading that wrong, but it sounds like after a magic number is hit in a day, the place shuts down and they all have candy. I don't know... but the more I hear them blame the USPS, the more pissed off I get.

Seph McCarty
---
"Nearest Netflix Shipping Facility" [ bookmark ]
I was getting ready to return my rentals to the post office when I noticed one of my Netflix envelopes did not have an address label attached although it did say:
Nearest Netflix Shipping Facility
PO Box 52081
Phoenix, AZ 85072-9949
There's no other mailing info on the envelope other than indication of business reply mail and a delivery point barcode (zip code). The Arizona address bothered me. Phoenix, Arizona is 1,690 miles away. Also, it occurred to me, how will Netflix know I'm returning this rental without my account number on the envelope? Although there is a barcode on the DVD sleeve, I believe the barcode only identifies the title of the DVD.
Here's what I believe happened. This rental was probably shipped from my local distribution center in Lansing, Michigan. The employee forgot to place a address label on the return envelope. Netflix realizes that their employees sometimes forget to place a return address on the envelope so all envelopes come pre-printed with a return address in case this happens.
When I realized what happened instead of mailing the rental in the envelope I placed it and another DVD in an envelope that had a label with my account number. I had to tear open the envelope and tape it shut as I had already placed another rental in it. Doing so was not enjoyable.
Update: After waiting 10 minutes on hold for Netflix customer service I was told the address label on the return envelopes does not have the customer's account number. The barcode on the address label is used for "sorting purposes." The barcode on the DVD sleeve does have a unique number which is used to identify the customer who rented it. Still, why the Phoenix, Arizona return address?
---
June 6, 2005
Quality Versus Quantity
Today, I was able to enjoy Argentosoma vol. 3 from GreenCine. If I'm having quality issues with Blockbuster and Netflix, I turn to GreenCine. This series was not something I had started renting from GreenCine. Originally, I had rented this from Blockbuster except Blockbuster had delivered two broken copies of Argentosoma vol. 3 and a third broken copy seemed likely. I've ordered Argentosoma vol. 4 from Blockbuster as I reserve GreenCine for my hard-to-find anime.
---
June 4, 2005
Turnaround Times Compared
It's been about 3 months since I made all my memberships 3-at-a-time. I've discovered that Netflix and Blockbuster deliver approximately the same number of rentals and have approximately the same turnaround times. Edited (7/31/05). Month of February removed as Netflix plan was still 8-at-a-time.
Number of Rentals Per Month*
Mar
Apr
May
Average
Netflix
15
12
11
12.67
Blockbuster
13
12
13
12.67
GreenCine
11
9
7
9
*Includes broken and missing rentals.
Mathematical Definition of Turnaround Time
30.44
= Turnaround Time

Rentals per month
Given the average number of days per month = 30.4368499
Turnaround Times In Days
Last 3 Month Average
Netflix
2.4
Blockbuster
2.4
GreenCine
3.4
Does this mean I should expect Netflix to send me a movie every 2 1/2 days? No. In my experience, dropping off my rentals Saturday night usually gets them back Thursday which is five days later. This phenomena was especially irritating with my 8-at-a-time membership--Netflix would hold delivery for 7 (sometimes 8) rentals for this length of time then deliver them all at once. I wouldn't get to see anything all week and then have my mailbox jammed with rentals all in one day. Viewing my membership as rentals per week gives me a better perspective of my turnaround time.
Given the average number of weeks per month = 4.33
Rentals Per Week
Netflix
2.8
Blockbuster
2.6
GreenCine
2.0
Miles to Nearest Distribution Center
Netflix, Lansing Michigan
80
Blockbuster, Lansing Michigan
80
GreenCine, San Francisco California
2,090
---
June 3, 2005
Availability Problems At Blockbuster
Several titles in my Blockbuster queue are not moving due to increased waiting times. I'm willing to give Blockbuster time to grow and hopefully correct this problem. I have better results with Netflix and GreenCine when it comes to availability.
---
June 2, 2005
Stats for May 2005
| | | | | |
| --- | --- | --- | --- | --- |
| Service | Monthly Cost (tax included) | Movies Delivered | Broken Movies | Cost/Rental (playable movies) |
| Netflix | $19.07 | 11 | 0 | $1.73 |
| Blockbuster | $15.89 | 13 | 2 | $1.44 |
| GreenCine | $21.95 | 7 | 0 | $3.14 |
Services compared using rentals shipped & received during May 2005. Cost/rental computed using Price/Rental Calculator.
---
June 1, 2005 [bookmark]
Netflix Defines "Rent As Many DVDs As You Want"
Today, I wrote a comment in about false advertising and Netflix. While researching I noticed that Netflix has removed the phrase "rent all the DVDs you want" from their home page. I also noticed Netflix has changed their to include a definition for "Rent As Many DVDs As You Want:"
Most of our subscribers rent between 3-11 movies per month.
You'll have to excuse Netflix for being coy and cryptic. What they're saying is:
"Rent As Many DVDs As You Want" = 3-11 movies per month
OR
"Unlimited" Rentals = 3-11 movies per month
There! They said it! The weight of a guilty conscious has been lifted! It looks like Netflix is trying to be more truthful about their service. Advertising "unlimited rentals" and "rent as many DVDs as you want" is becoming more and more of a liability. Personally, I think Netflix should trademark the phrase, "Rent As Many DVDs As You Want®" They've done a great job of misleading consumers with it.
---
May 30, 2005
HackingNetflix Disappears From Google
It's a good thing too! Recently, very negative comments about Netflix were posted on HackingNetflix--not by the owner but by visitors. This is a critical period for Netflix as they try to persuade Amazon in a partnership. Fortunately, HackingNetflix disappeared from Google a week ago. I'm sure Netflix appreciates the exposure and data they gain from HackingNetflix. However, HackingNetflix probably causes them more grief than what it's worth.
Netflix Copies Blockbuster
Looks like Netflix is toying with the idea of tracking their rentals through the USPS. My last rental from Netflix has a planet code on the label. The number on this label appears to be 13 digits and is 5,000,000,000,000.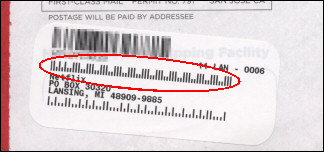 ---
May 25, 2005
Captology & Netflix: How Netflix Makes Money
Recently, I read a blog about Economic Fallacies & Netflix. It didn't make sense the first time I glossed over it. It wasn't until I understood the concept of framing* that the article made sense. The author is Henry Farrell, a professor at George Washington University. His article focuses on economic irrationality. Through anecdotal evidence, professor Farrell describes how Netflix profits from the perception customers have of their rentals. Netflix customers view their rentals as a stock--a product. The concept behind using Netflix is simple: receive rentals through the mail, watch them then return them. However, once a customer receives a rental he or she feels obligated to watch it since it's a material good they paid for. Sometimes customers don't have the opportunity to watch their rentals. Sometimes customers procrastinate over watching a rental. However, holding on to their rentals can be costly as it stops the flow of distribution--sending and receiving rentals through the mail. Professor Farrell says we'll be happier with Netflix if we think of it as a flow rather than a stock:
you're likely to be happier if you keep the movies coming along in a steady stream, even if you don't watch them (the latter may be useful information about your actual preferences, as opposed to the preferences that you would like to have)
PS: You might enjoy reading the comments left on this blog. Netflix investors heard about it and started leaving "I love Netflix" and "but you're getting a great deal" messages which completely miss the point of the article.
---
May 23, 2005 [bookmark]
Captology & Netflix: Why Netflix Turns Customers Off
I came across a web site from Stanford University called, Captology Notebook. First, what is captology? Captology is the science of using computer technology to manipulate people. Netflix has caught the interest of Stanford researchers because of their manipulative business practice of providing preferred service to profitable customers (i.e. throttling). So as Netflix customers why are we so "turned off" by throttling? According to Captology Notebook, the reason has to do with framing*. Have you ever heard the phrase, "It's not what you say but how you say it?" That's the basic idea behind framing. So what's Netflix saying?
"we give priority to those members who receive the fewest DVDs through our service"
*Author Kelton Rhoads, Ph.D., defines a "frame is a psychological device that offers a perspective and manipulates salience in order to influence subsequent judgment."
Consumers hate to lose. Netflix proponents say, "Rather than complaining [about receiving less rentals] why don't you be greatful that Net Flix offers you an option of $2 per DVD rather than going to Blockbuster and paying $4 and having to worry about late fees (or being forced to buy the movie)." Incidentally, this is an actual e-mail. However, Netflix customers prior to the throttling policy were accustomed to receiving a certain amount of rentals for their money. When Netflix instituted its throttling policy the same customers witnessed a substantial decrease in rentals per month and perceived this as a considerable loss of their membership benefits. Psychologist Kelton Rhoads wrote "We know that a human's first priority is not to lose--gains are secondary to the 'no loss' rule." By publicly endorsing a throttling policy Netflix creates a negative frame--presenting a perceived loss of member services. This becomes increasingly difficult for customers to accept as Netflix advertises "unlimited rentals" which brings up the saying, "It's not what you say...it's what you do." As a result of Netflix's negative framing, more and more customers are willing to try their luck with any of the growing list of online DVD rental companies.
Captology Notebook offers a few suggestions to win back customers including:
Rather than intentionally slowing processing/delivery service, think about what other services you could offer that would satisfy your customers and keep them occupied. Instead of using your considerable technology to focus on your "bad" customers--the ones who rent a lot--look at them as an opportunity for a premium service of ultra-quick processing and delivery.
You can read more on Captology Notebook's article: NetFlix uses persuasive technology and I don't like it
---
May 21, 2005
Anatomy Of A Blockbuster Return Label
I was somewhat at a loss of the information contained on a Blockbuster label. So I tried my best to find out as much as I could.

I'm not sure what this 6 digit barcode and corresponding roman numerals represent. Could it be the user's account?
This is the DVD's 18 digit stock number
I'm fairly certain this is a 14 digit tracking number. USPS calls it a planet code.
I suspect this is the distribution center's 5 digit ID number.
Of course, this is the USPS delivery point barcode containing the 9 digit zip code.
Blockbuster has recently added the movie title presumably for our for our benefit in expediting our deliveries. The movie title is hidden after sealing the envelope.
I've noticed some of the new envelopes do not have a tracking number which is open to speculation. For those of you that still have the old envelopes you can still match the DVD with the correct envelope. The DVD's sleeve has the 18 digit stock number. Match this with the same 18 digit number on the envelope and you might just speed up your deliveries.
New Online Netflix Throttle Checker!
Last month I received an e-mail from a programmer interested in making a program that would give you numbers on how much Netflix was delaying your rentals (throttling). He gave me a link of the program he had been working on. It was fascinating with lots of graphs although I didn't understand much of it. He heard of my complaints that Netflix was throttling me and asked if he could use my Netflix history to test his program. I said sure but didn't hear back from him. Then I saw Becky had blogged about his website.
I tried out his website--the instructions are simple.
Copy & paste your rental history into NotePad.
Save this as a text file.
Upload this text file on his web site.
Click the button
According to Rental Statistics. My rental history reveals:
You have rented 588 DVDs over 22 months. (That's an average of 27 DVDs per month).
On average, 23% of your rentals were delayed (i.e. 'throttled') by Netflix.
In your most recent month of data (05/2005), your rentals were delayed 20% of the time.
In processing the input data, the program found 5 problem rentals and 24 multiple rentals.
There's also a link called "Everything" that generates all sorts of fascinating graphs based on your data. I like the Multiple Rentals table which is an indicator of all the broken rentals I had requested more than once. My only question is how can you know if someone has been throttled based on their history? How can the program tell if someone was throttled versus holding on to a movie for a week or two?
---
May 20, 2005
BlockBuster Changes Envelopes
| | |
| --- | --- |
| | I noticed a couple of days ago that Blockbuster Online has changed the return label to include the title of the movie. There's no instructions but if you received more than one rental I would assume you would place each rental in the envelope it was shipped in. Maybe this is to facilitate scanning with the United States Postal Service. Rentals scanned by the USPS allow Blockbuster to mark movies as received in your queue before they actually arrive at their distribution center. |
Anatomy Of A GreenCine Envelope
| | |
| --- | --- |
| ENVELOPE | Cardboard Insert |
| | |
Here's the reason I've never received a broken DVD from GreenCine. GreenCine ships your DVD in a padded envelope as if it were "fragile" or something. You're kidding me! Do DVDs really get broken in the mail?
Letter From Netflix Stockholder
I believe that you expect too much from Net Flix. If Net Flix were to ship you 20 movies in one month...

Do you want Net Flix to go bankrupt?....

I am a Net Flix investor, and want Net Flix grow, but if you demand 104 movies a month, then I would rather not have you as a Net Flix customer.

_Z

p.s. Thank you for including links to walmart's DVD rental site, which recomends its customers sign up with Net Flix.

I think competition is great. No, I don't want Netflix to go broke--just their investors. Also, thanks for reminding me about the Walmart link. I just removed it.
---
May 19, 2005 Through April 5
My Netflix Journal May 19, 2005 Through April 5
---
My Netflix Journal Archive
---