Formula
dose ordered
dose available

x volume available
Actually this is the same formula used in the "PO dosage calculator."
Examples
1) Dr. Smith has ordered a heparin infusion of 1000 units/hour for John Doe in bed 7. The infusion is to be mixed as 25,000 units in 500 mL .9% NS. What rate will the IV pump be set to? In this example,
1000 units/hr = dose ordered
25,000 units = dose available
500 mL = volume available
1,000units
25,000units

x 500mL
which = 20 mL
So the volume to give, an infusion, = 20 mL/hour
See the example below.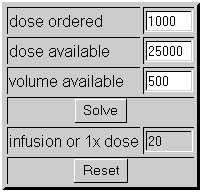 2) Give 40mg of Lasix® (furosemide) IVP. The vial of furosemide contains 100 mg per 10 mL. In the example,
40 mg = dose ordered
100 mg = dose available
10 mL = volume available
which = 4 mL
So the volume to give, a 1x dose, = 4 mL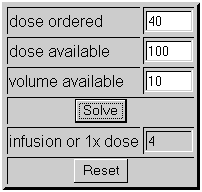 Note
It doesn't matter what type of units are used in this calculator. You can figure out how many grams to give or how many milligrams to give, micrograms, units, grains, etc. Remember to be consistent (i.e. don't mix milligrams with grams).
---
manuelsweb.com

©2006 m. villanueva
[ home ] [ download nursing calculators ] [ my cocker spaniel ] [ the lance missile ] [ nursing ] [ site map ] [ links ] [ guestbook ] [ e-mail me ]