| | | |
| --- | --- | --- |
| | convert mcg/min to ml/hr | |
Example
Start an infusion of nitroglycerin at 10 mcg/min, then titrate to chest pain. The nitroglycerin is to be mixed as 50 mg in 250cc of D5W. Use the example below to see how to plug the numbers into the calculator.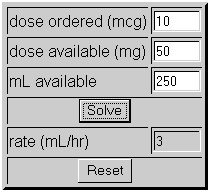 In this example, the nitroglycerine infusion will be set to 3 mL/hr.
Formula
First, convert mcg/min to mg/hr.
For example, 10 mcg/min becomes 0.6 mg/hr.

Next, solve the rest by using the IV dosage formula.
In the example given, 0.6mg is the dose ordered,
50 mg is the dose available,
and 250 mL is the volume available.

If you're lucky enough to have new IV pumps that accept mcg/min, obviously this entire process is unnecessary.
---
Return to:
[ nursing calculators ] [ download nursing calculators ]
[ home ] [ my cocker spaniel ] [ the lance missile ] [ pc & web for beginners ] [ nursing ] [ site map ] [ links ] [ guestbook ] [ e-mail me ]