| | | |
| --- | --- | --- |
| | convert mL/hr to dose/hr | |
Example
You have received report on a patient with a heparin drip but the nurse forgot to say what dosage the drip was infusing at. The heparin bag is labeled 25,000 units in 250 mL NS and the IV pump is infusing at 20 mL/hr. In this example,
20 mL/hr = rate, an infusion.
25,000 units = dosage available
250 mL = volume available
So the dosage ordered, an infusion, = 2000 units/hour
See the example below.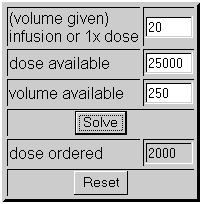 Formula
rate
mL available

x dose available
Using the formula on the example above looks like this:
20cc/hr
250mL

x 25,000units
which = 2000 units/hr
It doesn't matter if you use milligrams or units or something else in the formula.
---
Return to:
[ nursing calculators ] [ download nursing calculators ]
[ home ] [ my cocker spaniel ] [ the lance missile ] [ pc & web for beginners ] [ nursing ] [ site map ] [ links ] [ guestbook ] [ e-mail me ]